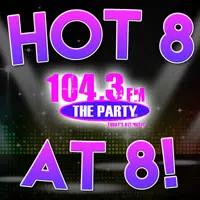 Hump Day! Happy Wednesday we are back with another countdown brought to you by Smoky's House of BBQ! Yesterday Dean Lewis broke into the top three and Ellie Goulding keeps the crown for 2 nights in a row.  Will she and the crew keep holding the top spot? Find out below!
1. "Close to Me'" – Ellie Goulding feat. Diplo & Swae Lee
2. "Ruin My Life" – Zara Larrson
3. "Nothing Breaks Like a Heart" – Mark Ronson feat. Miley Cyrus
4. "Be Alright" – Dean Lewis
5. "8 Letters" =  Why Don't We
6. "Mia" = Bad Bunny feat. Drake
7. "Sweet But Psycho" – Ava Max
8. "Body" – Loud Luxury
Loud Luxury makes a reappearance tonight on the countdown! "Body" debuted back a few weeks ago but dropped off quickly, and now its gaining traction again as it debuts again tonight at #8.  Mark Ronson and Miley Cyrus maintain themselves and push back into #3.  Ellie Goulding and the crew continue their hotstreak for three nights in a row now!  Remember to check back here for the latest countdown every weeknight @ 8p.m.!