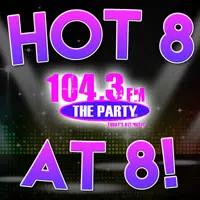 Thursday is here!  Last night, Ellie Goulding started her hot streak with three nights in a row at the top with her crew, as Miley Cyrus and Mark Ronson battled back for a top three spot.  Loud Luxury also reappeared on the countdown after a disappearance, gaining traction again.  Will Goulding keep the crown, or will Zara Larrson try to swipe it? Find out below, brought to you by Smoky's House of BBQ~!
1. "Close to Me'" – Ellie Goulding feat. Diplo & Swae Lee
2. "Nothing Breaks Like a Heart" – Mark Ronson feat. Miley Cyrus
3. "Ruin My Life" – Zara Larrson
4. "8 Letters" =  Why Don't We
5. "Be Alright" – Dean Lewis
6. "Sweet But Psycho" – Ava Max
7. "Body" – Loud Luxury
8. "Mia" = Bad Bunny feat. Drake
Quite a few mix-ups on the countdown tonight!  Mark Ronson and Miley Cyrus close in on #1, knocking Zara Larrson down to #3.  Why Don't We passes up Dean Lewis, and Bad Bunny falls to #8! Remember to check back for the last weekly countdown tomorrow on the Night Club!