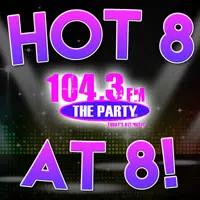 Happy Tuesday! You're in The Night Club with Carman and once again it's time for your Hot 8@8 Countdown with Smoky's House BBQ in Charleston! Now last night we saw Marian Hill take the top spot for the third night in a row with "Down", can her debut single go a forth night? Check out what your votes helped decide below, and also we have one debut kicking off the show tonight!
8. "Heavy" – Linkin Park feat. Kiiara (Debut!)
7. "It Ain't Me" – Kygo feat. Selena Gomez
6. "Cold" – Maroon 5 feat. Future
5. "Call on Me" – Starley
4. "Issues" – Julia Michaels
3. "Everyday" – Ariana Grande feat. Future
2. "Chained to the Rhythm" – Katy Perry feat. Skip Marley
1."Down" – Marian Hill
A forth night indeed, Marian goes another night at the top! Please remember you help decide how the songs fall each and every weeknight. Please be sure to cast your vote beginning at 5 PM weeknights; call 217-844-HITS, text 217-218-0288, or leave your vote at The Party's Facebook Page!