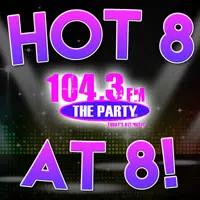 Happy Thursday! Another week going by way too soon, but we've made it to my personal favorite Hot 8@8 Countdown with Smoky's House BBQ in Charleston for the week…Your Throwback Thursday edition! That means for Pop Culture Trivia we will have an old-school favorite spun backwards for your chance at some free grub! Now last night, DJ Khaled broke a record…he along with all his buddies took "I'm the One" to #1 on our show for a consecutive 17 nights! See below if they can go an 18th night….
8. "Attention" – Charlie Puth
7. "Strip That Down" – Liam Payne feat. Quavo
6. "Crying in the Club" – Camila Cabello
5. "Slow Hands" – Niall Horan
4. "Malibu" – Miley Cyrus
3. "Despacito" – Luis Fonsi feat. Daddy Yankee & Justin Bieber
2. "Bad Liar" – Selena Gomez
1."I'm the One" – DJ Khaled feat. Justin Bieber & Chance the Rapper
That marks it, 18 nights in a row!!! Unstoppable the song is. If you would like to see it go a 19th night and close out what would be a grand total of 4 weeks straight closing out the week at the top tomorrow, please remember you help decide that fate. Please be sure to cast your vote from 5-7:30 p.m. by either calling 217-844-HITS, texting 217-218-0288, or leaving your vote at The Party's Facebook page!