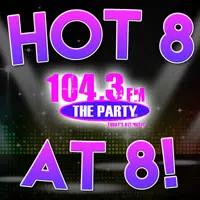 Happy Thursday! Welcome back to The Night Club with Carman and The Hot 8@8 Countdown with Smoky's House BBQ in Charleston! Now given the day of the week, that means for Pop Culture Trivia we will have an old-school retro-rewind favorite spun backwards that you will have to identify. However, before we get to that we have to count down the tracks, and still remaining a dominate force on the show is "I'm the One" from DJ Khaled & all his buddies…Lil' Wayne, Chance the Rapper, Quavo, & Justin Bieber. Can they go another night tonight and make their #1 stay a 23 night run? See what you helped decide below and also we have one new entry too!
8. "Humble" – Kendrick Lamar (Debut!)
7. "Despacito" – Luis Fonsi feat. Daddy Yankee & Justin Bieber
6. "Strip That Down" – Liam Payne feat. Quavo
5. "Crying in the Club" – Camila Cabello
4. "Slow Hands" – Niall Horan
3. "Bad Liar" – Selena Gomez
2. "Malibu" – Miley Cyrus
1."I'm the One" – DJ Khaled feat. Justin Bieber & Chance the Rapper
That's a record for the Hot 8@8 Countdown….a grand total of 23 nights in a row!!! If they go a 24th night tomorrow and that will be the 5th week that the group can close out the week strong. To make it happen please remember you help decide. Please remember to cast your vote by either calling 217-844-HITS, texting 217-218-0288, or leaving your vote at The Party's Facebook Page!