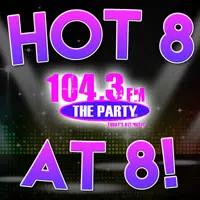 Happy Throwback Thursday!!! Welcome back to the Night Club with Carman and another fun edition of The Hot 8@8 Countdown with Smoky's House BBQ in Charleston! Of course, with it being Thursday, we will some retro-rewind fun with Pop Culture Trivia and that will all happen after we count what you helped decide tonight! Now remember the song to still beat is "Feels" from Calvin Harris, can he go a straight 4th night at the top??? See what you helped decide tonight below….
8. "Congratulations" – Post Malone feat. Quavo (Re-Entry!)
7. "Get Low" – Zedd feat. Liam Payne
6. "Honest" – Chainsmokers
5. "Unforgettable" – French Montana feat. Swae Lee
4. "Wild Thoughts" – DJ Khaled feat. Rihanna & Bryson Tiller
3. "Redbone" – Childish Gambino
2. "Praying" – Ke$ha
1."Feels" – Calvin Harris feat. Pharrell Williams, Katy Perry, & Bryson Tiller
We saw a lot of shuffling tonight, but not in the top song! That marks a 4th night for the 4 person collaboration! Please remember, you can help decide if they will go a 5th night in a row and close out a solid week at the top tomorrow. When voting opens at 5 p.m. CDT you can get your vote in until 7:30 by either calling 217-844-HITS, texting 217-218-0288, or leaving your vote at The Party's Facebook Page!