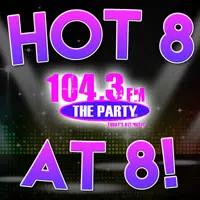 Finally Friday!!! We made it to the end of the week and starting your weekend is your final Hot 8@8 Countdown for the week of August 7th-11th with Smoky's House BBQ in Charleston all part of The Night Club with Carman! Now all this week, only one song has managed to hold onto the top spot "Praying" from Ke$ha. Will she go a 5th night in a row and close out the week strong and solid? See Friday nights' results below….
8. "Fetish" – Selena Gomez feat. Gucci Mane
7. "Congratulations" – Post Malone feat. Quavo
6. "Sorry, Not Sorry" – Demi Lovato
5. "Redbone" – Childish Gambino
4. "Get Low" – Zedd feat. Liam Payne
3. "Unforgettable" – French Montana feat. Swae Lee
2. "Honest" – Chainsmokers
1."Praying"- Ke$ha
A solid week she spends at #1! I could see Ke$ha staying at the top for a while with that tune, but you have a say in how she fares out when the countdown resumes on Monday night. Please be sure to cast your vote weeknights from 5-7:30 p.m. CDT by either calling 217-844-HITS, texting 217-218-0288, or leaving your vote at The Party's Facebook Page!