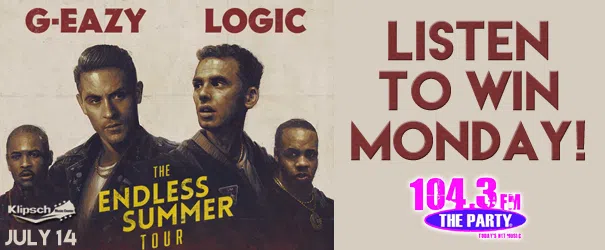 G-Eazy and Logic along with special guests, Yo Gotti and YG are bringing the "Endless Summer Tour" to the Klipsch Music Center in Noblesville on Thursday, July 14th and 104.3 the Party has your chance to be there for free!
But here's the catch…if you want to score tickets you'll have to "Get Cheesy for G-Eazy!"
Listen to the Party on Monday for FOUR chances to win during the Party Nation Show and the Night Club.
If you're the 5th caller when Kallie and Carman give you the cue to call, you'll have to confess your love for G-Eazy…and make it cheesy!
Winner will receive two tickets to the concert!
It's your chance to see G-Eazy live at the Klipsch Music Center in Noblesville as part of the 104.3 Degrees of Summer!