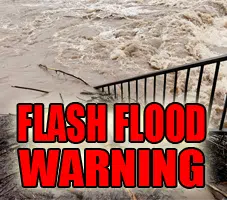 The National Weather Service in Indianapolis has issued a Flash Flood Warning for Northwestern Clay, Southwestern Putnam, and Central Vigo Counties until 9:15 PM.
Heavy Rainfall of 2 Inches has already been reported and flash flooding could begin shortly.
Locations impacted include: Terre Hate, West Terre Haute, North Terre Haute, Greencastle, Brazil, Seelyville, Harmony, Indiana State University, and Interstate 70 between mile markers 1 and 22 as well as mile markers 30 and 39.