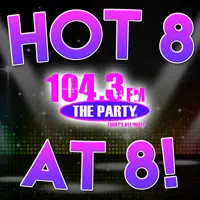 Friday once again!!! Another work week has come and gone and it's time for your Final Hot 8@8 Countdown with Smoky's House BBQ in Charleston for the week of August 22nd through the 26th! All week long the countdown has remained very consistent with the songs appearing on the show. Tonight the same songs, as last night appear but there is a little bit of shuffling. So check it out and see if Kungs vs. Cookin' on 3 Burners will take #1 to close out the week!
8. Cold Water – Major Lazor feat. Justin Bieber 
5. Too Good – Drake feat. Rihanna 
4. I Hate You, I Love You – Gnash feat. Olivia O'brian 
3. Starving – Haliee Steinfeld feat. Grey & Zedd 
2. Closer – Chainsmokers feat. Halsey 
1. This Girl – Kungs vs. Cookin' on 3 Burners 
"This Girl" manages to hold onto the #1 spot on our show for the 3rd night in a row and that's where it will stay as it closes out the week!!! When the show resumes on Monday, please remember you can help decide, VOTE! Be sure to cast your ballot when voting opens at 5 PM, call 217-844-HITS, text 217-218-0288, or leave your request at The Party's Facebook Page!