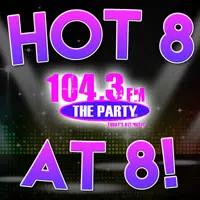 Monday is here once again and that means it's time for your first Hot 8@8 Countdown with Smoky's House BBQ in Charleston for the week!!! Little refresher where we left the show on Friday night….Twenty-One Pilots held on for 4 consecutive weeks with "Heathens" making its total night count spent at #1 20 nights! Can they go another night and start another week off strong? Find out what your votes helped decided below…also a re-entry on the show tonight too….
8. "I Hate You, I Love  You" – Gnash feat. Olivia O'brian (Re-Entry!)
7. "All Time Low" – Jon Bellion 
6. "Perfect Illusion" – Lady Gaga 
5. "Side to Side " – Ariana Grande feat. Nicki Minaj 
4. "The Greatest" – Sia feat. Kendrick Lamar 
2. "Starboy" – The Weeknd feat. Daft Punk 
1. "Heathens" – Twenty-One Pilots 
Love for "Heathens" has not slowed down still! 21 nights now, and just three more nights and they will have the longest running #1 song on the Hot 8@8 Countdown for 2016! Please remember you can help decide where the songs fall nightly, please be sure to cast your vote by calling 217-844-HITS, texting 217-218-0288, or posting a message to the Party's Facebook Page!