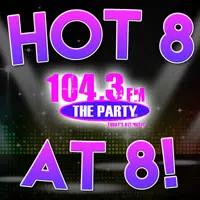 It's Tuesday and time for your second Hot 8@8 Countdown for the week with Smoky's House BBQ in Charleston!!! Last night we saw The Weeknd and Daft Punk grab the top spot for a fourth night with "Starboy", will they go another night? Check out your results below and also a re-entry on the show tonight as well….
8. "Kiss the Sky" – Jason Derulo 
7. "All Time Low" – Jon Bellion (Re-Entry!)
5. "The Greatest" – Sia feat Kendrick Lamar
3. "Side to Side" – Ariana Grande feat. Nicki Minaj 
1. "Starboy" – The Weeknd feat. Daft Punk 
That's 5 nights consecutively! The Weeknd and Daft Punk still not backing down on the show. Please remember you can help determine what songs make the cut each and every weeknight. Please be sure to call 217-844-HITS, text 217-218-0288, or leave your vote at the Party's Facebook Page!