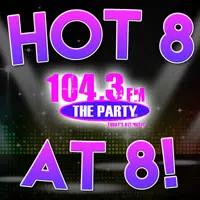 Welcome to  your Throwback Thursday edition of The Hot 8@8 Countdown with Smoky's House BBQ in Charleston! Tonight we'll have a song in reverse for Pop Culture Trivia and discover if Bruno Mars can grab the top spot for the second night in a row! Last night Bruno defeated The Weeknd's 10 night reign at #1, but you never know he and Daft Punk could easily reclaim it. Check out tonight's results below and also no new entries tonight either.
8. "That's My Girl" – Fifth Harmony 
6. "All Time Low" – Jon Bellion 
5. "Don't Wanna Know" – Maroon 5 feat. Kendrick Lamar 
4. "Side to Side' – Ariana Grande feat. Nicki Minaj 
3. "The Greatest" – Sia feat. Kendrick Lamar 
2. "Starboy" – The Weeknd feat. Daft Punk 
That's two nights and counting for the magic of Bruno Mars's new single! Please remember if you would like to keep it or change it you help decide! Please be sure to let us know what your favorite new, hot single is each and every weeknight when voting opens at 5 PM. You can call 217-844-HITS, text 217-218-0288, or leave your request at The Party's Facebook Page!