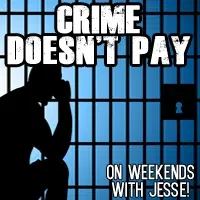 This certainly isn't the best strategy to get away from the cops during a high-speed chase . . . but it might be the most DELICIOUS strategy.
The police in Phoenix tried to arrest a 35-year-old guy named Joshua Adkins on Wednesday night for a domestic violence charge, but he got in his truck and sped off.
They started chasing him, and after a little bit of that, Joshua decided to make a quick stop . . . FOR FOOD.  But not just any food:  Some In-N-Out Burger.
He went into an In-N-Out drive-thru and placed an order, but apparently he didn't realize that the food takes a little longer there than at places like McDonald's.
So he started getting impatient . . . you know, what with the cops still chasing him and all . . . and he wound up speeding away before his food was ready.
The cops caught him shortly after and arrested him.