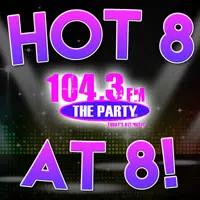 It's Tuesday and time for another round of The Hot 8@8 Countdown with Smoky's House BBQ in Charleston all part of The Night Club with Carman! Now last night Chainsmokers and Coldplay kicked off the week in the same #1 position we saw them in for the vast majority of last weeks show. Check out your results below to see if you placed them at the top for the 5th night in a row. Also no new entries tonight either….
8. "Swalla" – Jason Derulo feat. Nicki Minaj & Ty Dolla Sign
7. "It Ain't Me" – Kygo feat. Selena Gomez
6. "Bounce Back" – Big Sean
5. "Slide" – Calvin Harris feat. Frank Ocean & Migos
4. "Cake" – Flo Rida feat. 99 Percent
3. "Stay" – Zedd feat. Alessia Cara
2. "Greenlight" – Lorde
1."Something Just Like This" – Chainsmokers feat. Coldplay
That's another night at #1 for the dynamic duo and Coldplay! As always, you have the power to determine the outcome each and every weeknight. Just be sure to let your voice heard by casting your ballot each and every weekday by either calling 217-844-HITS, texting 217-218-0288, or leaving your vote at The Party's Facebook Page!