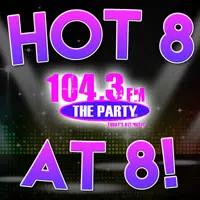 Happy Thursday! Despite the crazy weather patterns tonight, we still can't overlook the nightly tradition here in The Night Club with Carman your Hot 8@8 Countdown, Throwback Thursday Edition, with Smoky's House BBQ in Charleston!!! Of course that means we will have an old school track backwards for Pop Culture Trivia right after we count down 8 of the hottest new singles right now. Last night, proving once again as the song to beat was Chainsmokers and Coldplay's "Something Just Like This", can they hold on for another night? Check out tonight's placings….
8. "Swalla" – Jason Derulo feat. Nicki Minaj & Ty Dolla Sign
7. "Waterfall" – Stargate feat. Sia & Pink!
6. "Bounce Back" – Big Sean
5. "Cake" – Flo Rida feat. 99 Percent
4. "Slide" – Calvin Harris feat. Frank Ocean & Migos
3. "Greenlight" – Lorde
2. "Something Just Like This" – Chainsmokers feat. Coldplay
1."Stay" – Zedd feat. Alessia Cara
Well, after weeks of being inside the top 3 Zedd and Alessia finally grab the top spot with "Stay!" Can they go two nights in a row and close out the end of March in the same spot? Please remember you help decide the outcome by letting your voice be heard! Please cast your vote weeknights from 5-7:30 PM. Just call 217-844-HITS, text 217-218-0288, or leave your vote at The Party's Facebook Page!