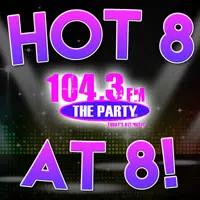 It's Election Tuesday! Plenty of local election results coming your way tonight all part of The Night Club with Carman, but that doesn't mean we still can't have some fun with the weeknight tradition…The Hot 8@8 Countdown with Smoky's House BBQ in Charleston!!! Now last night as we kicked off a new month and week…Lorde with "Greenlight" made a two spot jump to claim the #1 spot for the first time! Check out results tonight to see if she can do the same!
8. "I Spy" – Kyle feat. Lil' Yachty
7. "Cake" – Flo Rida feat. 99 Percent
6. "Scared To Be Lonely" – Martin Garrix feat. Dua Lipa
5. "Slide" – Calvin Harris feat. Frank Ocean & Migos
4. "Bounce Back" – Big Sean
3. "Stay" – Zedd feat. Alessia Cara
2. "Something Just Like This" – Chainsmokers feat. Coldplay
1. "Greenlight" – Lorde
That's two nights and the count officially begins for Lorde's reign at #1!!! Please remember each and every weeknight we bring you the hottest new tracks and you have a say in how the rank, please be sure to VOTE! You can do so Monday through Friday from 5-7:30 PM by calling 217-844-HITS, texting 217-218-0288, or leaving your vote at The Party's Facebook Page!