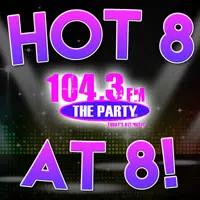 Happy Monday! Hope you had a fantastic weekend and now that it's back to another work week, here in The Night Club with Carman, that means it's time once again for another round of The Hot 8@8 Countdown with Smoky's House BBQ in Charleston!!! A recap of where we left the show on Friday night: Chainsmokers and Coldplay had spent 2 nights last week back at #1 with "Something Just Like This", which was them reclaiming the top spot after being knocked down from it by "Greenlight" from Lorde. So anything can happen with this show! Check out where you helped place the songs tonight. Also for a Monday night we have one new song as well!
8. "Still Got Time" – Zayn feat. Party Next Door (Debut!)
7. "Cake" – Flo Rida feat. 99 Percent (Re-Entry!)
6. "At My Best" – Machine Gun Kelly feat. Hailee Steinfield
5. "Scared to be Lonely" – Martin Garrix feat. Dua Lipa
4. "Greenlight" – Lorde
3. "Slide" – Calvin Harris feat. Frank Ocean & Migos
2. "Bounce Back" – Big Sean
1."Something Just Like This" – Chainsmokers feat. Coldplay
Chainsmokers proving they remain a dominate force! Once again they kick off the new week at #1 with Coldplay! As always you have the chance to let your voice be heard every weeknight by voting for your favorite new track! Please be sure to vote from 5-7:30 PM by calling 217-844-HITS, texting 217-218-0288, or leaving your vote at The Party's Facebook Page!