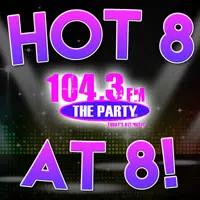 Welcome back to another night here in The Night Club with Carman, and in no way is the club complete without another edition of The Hot 8@8 Countdown with Smoky's House BBQ in Charleston! Now last night Chainsmokers and Coldplay kicked off the new week with another night at #1 with "Something Just Like This." Which marked another three nights in a row, but a grand total of 10 nights since it's journey on the show at the top. You help determine the outcome every night, see what you helped decide on your Tuesday! A debut gets us started as well….
8. "Play That Song" – Train (Debut!)
7. "Cake" – Flo Rida feat. 99 Percent
6. "Scared to be Lonely" – Martin Garrix feat. Dua Lipa
5. "At My Best" – Machine Gun Kelly feat. Hailee Steinfield
4. "Greenlight" – Lorde
3. "Bounce Back" – Big Sean
2. "Slide" – Calvin Harris feat. Frank Ocean & Migos
1."Something Just Like This" – Chainsmokers feat. Coldplay
That's another night the unstoppable Chainsmokers spend at the top! Please remember you can help decide where the songs fall every night Monday through Friday by letting your voice be heard through voting, please tell us your favorite new song by calling 217-844-HITS, texting 217-218-0288, or leaving your vote at The Party's Facebook Page!