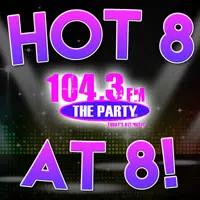 Happy Throwback Thursday! Another night here in The Night Club with Carman and another round of The Hot 8@8 Countdown coming your way with Smoky's House BBQ in Charleston!!! Of course, Thursday brings an old school favorite back to the spotlight for we will have a tune from back in the day reversed for Pop Culture Trivia!
So all this week, the only song to be #1 on the show is "Something Just Like This" from Chainsmokers and Coldplay. While there reign at #1 has not been consecutive, they have spent a grand total of 12 nights at the top of the show. They could be on their way to having the longest running song at #1 for 2017 thus far, for right now the one to beat is Ed Sheeran's "Shape of You" which spent a total of 16 nights back in January. Check out what your votes helped decide and we see no new entries tonight either….
8. "Greenlight" – Lorde
7. "Still Got Time" – Zayn feat. Party Next Door
6. "Play That Song" – Train
5. "At My Best" – Machine Gun Kelly feat. Hailee Steinfield
4. "Scared to be Lonely" – Martin Garrix feat. Dua Lipa
3. "Slide" – Calvin Harris feat. Frank Ocean & Migos
2. "Bounce Back" – Big Sean
1."Something Just Like This" – Chainsmokers feat. Coldplay
That's 13 nights now for the duet partners! Can they go 14 and close out the week strong tomorrow??? Please remember you help decide. Please be sure to vote once again tomorrow once voting opens at 5 PM. Either call 217-844-HITS, text 217-218-0288, or leave your vote at The Party's Facebook Page!