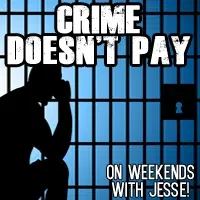 These guys actually sound like the OPPOSITE of stupid criminals . . .
Inmates at a prison in Marion, Ohio got to take part in a program a few years ago where they learned a skill by taking apart electronics that were being recycled.
Two of the prisoners managed to steal a bunch of parts . . . cobbled them together to build two COMPUTERS . . . and then used them to message people, watch pornography, apply for credit cards, and research tax fraud and homemade DRUGS.
Prison guards found the computers hidden in a ceiling tile back in 2015.  We're just hearing about it now because there's an investigation.
The inmates say they were able to pull it off because the security at the prison was so awful, and no one was watching them.  They snuck all the parts into their cells, and even managed to run Cat-5 cables through the ceiling to get online.
The prison's IT department figured out what was happening after they noticed a computer on their network had way more internet traffic than it should have.
The department of corrections says it's taking steps to make sure it doesn't happen again.
(CNN)