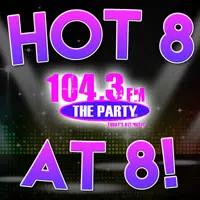 Happy Monday! Hope you had a fantastic Easter Weekend and enjoyed our All Request Weekend with KC Summers! 🙂 But now that it's back to another work week, and The Night Club is kicking it all off with our nightly tradition The Hot 8@8 Countdown with Smoky's House BBQ in Charleston!
Now when we left the show on Friday, for a 14th night Chainsmokers and Coldplay held onto the #1 spot. Check out below to see if they can go 15 nights and kick off a fresh week strong. Also one new entry tonight as well!
8. "Passion Fruit" – Drake
7. "Sign of the Times" – Harry Styles (Debut!)
6. "Scared to be Lonely" – Martin Garrix feat. Dua Lipa
5. "Still Got Time" – Zayn feat. Party Next Door
4. "Bounce Back" – Big Sean
3. "At My Best" – Machine Gun Kelly feat. Hailee Steinfield
2. "Something Just Like This" – Chainsmokers feat. Coldplay
1."Slide" – Calvin Harris feat. Frank Ocean & Migos
For the first time Calvin in fact slides straight to #1 with his latest! Please remember this countdown is ever changing and you have a say in how the outcome turns out. Please be sure to cast your votes beginning at 5 PM weeknights. Either call 217-844-HITS, text 217-218-0288, or leave your vote at The Party's Facebook Page!