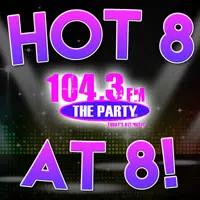 Welcome back to The Night Club with Carman! It's time once more for another Throwback Thursday edition of the Hot 8@8 Countdown with Smoky's House BBQ in Charleston, which means we will kick it old school with a retro rewind in reverse for Pop Culture Trivia! Now last night  for a third time "Slide" from Calvin Harris, Frank Ocean, and Migos was the song to beat, find out if they can go a forth night and we have one new entry tonight too!
8. "Passion Fruit" – Drake
7. "Castle on the Hill" – Ed Sheeran (Debut!)
6. "Play That Song" – Train
5. "Something Just Like This" – Chainsmokers feat. Coldplay
4. "Still Got Time" – Zayn feat. Party Next Door
3. "Sign of the Times" – Harry Styles
2. "At My Best" – Machine Gun Kelly feat. Hailee Steinfield
1. "Slide" – Calvin Harris feat. Frank Ocean & Migos
That's four nights in a row, can they go 5 and close out the week solid??? Please remember every weeknight from 5-7:30 PM CDT, voting remains open for your chance to have your voice be heard! Just be sure to call 217-844-HITS, text 217-218-0288, or leave your vote at The Party's Facebook Page!