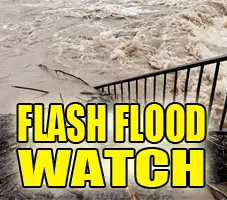 The National Weather Service in Lincoln has issued a

* Flash Flood Watch for portions of central Illinois, east
  central Illinois, and southeast Illinois, including the
  following areas, in central Illinois, Christian, De Witt,
  Logan, Macon, McLean, Menard, Piatt, Sangamon, and Shelby. In
  east central Illinois, Champaign, Clark, Coles, Cumberland,
  Douglas, Edgar, Moultrie, and Vermilion. In southeast
  Illinois, Clay, Crawford, Effingham, Jasper, Lawrence, and
  Richland.

* From Friday evening through Monday morning

* Periods of heavy rainfall are expected over the weekend. By
  Monday morning between three and five inches of rainfall is
  expected in an area near I-55 southeastward through much of
  central and southeast Illinois. Locally heavier amounts are
  possible between I-55 and I-57. At the current time the
  heaviest rain is expected overnight Saturday.