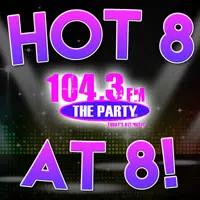 Once more It's Friday!!! 🙂 We've survived another week and kicking off your weekend is The Night Club with Carman.  Once more it's time for your final Hot 8@8 Countdown for not only the week, but for the month of April as well…That's CRAZY! Tonight very crucial to see what song will take the top spot and end the month off strong. For the past two nights the top spot has belonged to Harry Styles with "Sign of the Times", check out what you helped decide….
8. "Good Life" – G-Eazy feat. Kehlani (Debut!)
7. "Play That Song" – Train
6. "Passion Fruit" – Drake
5. "Still Got Time" – Zayn feat. Party Next Door
4. "Now or Never" – Halsey
3. "At My Best" – Machine Gun Kelly feat. Hailee Steinfeld
2. "Castle on the Hill" – Ed Sheeran
1."Sign of the Times" – Harry Styles
Harry goes three nights and something tells me he won't be slowing down anytime soon. Please remember when the countdown continues Monday night, you can decide if Harry starts May in the same position. Please be sure to cast your ballots weeknights from 5-7:30 P.M. by calling 217-844-HITS, texting 217-218-0288, or leaving your vote at The Party's Facebook Page!