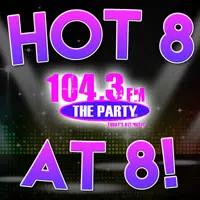 Once more we've reached Monday Night, and it's the first of the month! Somehow we've already made it to the 5th month of the year? Anyway's it's a fresh month and week and we are gonna kick it all off with another round of The Hot 8@8 Countdown with Smoky's House BBQ in Charleston, which of course is all part of The Night Club with Carman!
Now a little refresher from where we left the countdown on Monday night, for the third night in row, the song to beat has been Harry Styles with "Sign of the Times", can the former One Direction member maintain his status with his first solo single tonight? See where your votes helped place the tracks and also one song is making its way back onto the show too!
8. "I Love You" – Axwell Ingrosso feat. Kid Ink (Re-Entry!)
7. "Play That Song" – Train
6. "Still Got Time" – Zayn feat. Party Next Door
5. "At My Best" – Machine Gun Kelly feat. Hailee Steinfeld
4. "Passion Fruit" – Drake
3. "Now or Never" – Halsey
2. "Castle on the Hill" – Ed Sheeran
1."Sign of the Times"- Harry Styles
Harry defiantly has some dominance with your votes, he maintains his stay and goes four nights now at #1! Please remember you can help determine how the results are placed every weeknight from 5-7:30 P.M. by simply calling 217-844-HITS, texting 217-218-0288, or leaving your vote at The Party's Facebook Page!