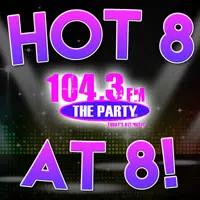 Happy Thursday, hope you're staying dry and beating all the rain! Anyway's it's a fun night as The Night Club with Carman is back and we've reached your Throwback Thursday edition of The Hot 8@8 Countdown with Smoky's House BBQ in Charleston for the week!!! So of course for Pop Culture Trivia we will have an old school retro-rewind spun backwards which you will have to identify. Check out tonight's results to see if Harry Styles can hold onto #1 yet again and we also have one new entry getting us started too!
8. "The Cure" – Lady Gaga (Debut!)
7. "At My Best" – Machine Gun Kelly feat. Hailee Steinfeld
6. "I Spy" – Kyle feat. Lil' Yachty
5. "Still Got Time" Zayn feat. Party Next Door
4. "Passion Fruit" – Drake
3. "Castle on the Hill" – Ed Sheeran
2. "Now or Never" – Halsey
1."Sign of the Times" – Harry Styles
That marks 6 nights consecutively now for Harry's stay at #1! Please remember every weeknight from 5-7:30 P.M. you can cast your ballots. Please  be sure to do so one of three ways: Call 217-844-HITS, text 217-218-0288, or leave your vote at The Party's Facebook Page!