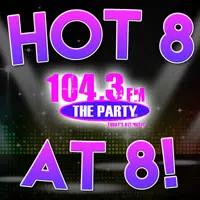 Happy Cinco de Mayo! Somehow we've made it through the wet, cold, rainy week to end it on a positive and sunny note! Welcome back to The Night Club with Carman and once more it's time for your Hot 8@8 Countdown with Smoky's House BBQ in Charleston, your final show for the week of May 1st through the 5th. Now all week long the only song to see #1 has been "Sign of the Times" by former One Direction Harry Styles. If he can close out the week at the top, that will mark a grand total of 7 nights consecutively! See what you helped determine and also one new entry too!
8. "Nothing Holding Me Back" – Sean Mendes (Debut!)
7. "I Spy" – Kyle feat. Lil' Yachty
6. "The Cure" – Lady Gaga
5. "Passion Fruit" – Drake
4. "Still Got Time" – Zayn feat. Party Next Door
3. "Now or Never" – Halsey
2. "Castle on the Hill" – Ed Sheeran
1."Sign of the Times" – Harry Styles
Remaining once more Harry Styles is unstoppable right now! That marks a 7th night in a row for his first solo hit! Always remember, when the countdown resumes on Monday night, you can help determine the outcome. Just be sure to cast your vote weeknights from 5-7:30 p.m. Please do so by either calling 217-844-HITS, texting 217-218-0288, or leaving your vote at The Party's Facebook Page!