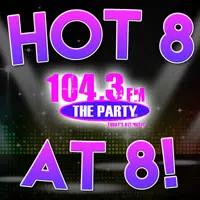 Happy Wednesday and welcome back to The Night Club with Carman! Once more it's the nightly tradition The Hot 8@8 Countdown with Smoky's House BBQ in Charleston, your mid-point edition, so check out what your votes helped decide tonight. Tonight we have no new entries, but could we have a new #1???
8. "Believer" – Imagine Dragons
7. "I Spy" – Kyle feat. Lil' Yachty
6. "I'm the One" – DJ Khaled feat. Justin Bieber & Chance the Rapper
5. "The Cure" – Lady Gaga
4. "There's Nothing Holding Me Back" – Shawn Mendes
3. "Now or Never" – Halsey
2. "Sign of the Times" – Harry Styles
1."Castle on the Hill" – Ed Sheeran
That marks three nights now for Ed Sheeran! "Castle on the Hill" remains to be number one, but remember anything can happen with the countdown so please be sure to cast your ballot once more, when the show continues tomorrow. As always be sure to vote by either calling 217-844-HITS, texting 217-218-0288, or leave your vote at The Party's Facebook Page!