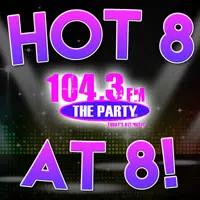 Hope all Mom's had a fantastic Mother's Day Celebration!!! Welcome back to The Night Club with Carman as we kick off another work and another week of The Hot 8@8 Countdown with Smoky's House BBQ in Charleston!
Now a little Monday refresher from where we left the show on Friday night, for the second night Harry Styles reclaimed the top spot with "Sign of the Times", he re-took the top spot from Ed Sheeran. Which one of these guys will be #1 tonight, or could something brand new take over….Find out what you helped decide and also one new entry kicks things off at #8!
8. "Attention" – Charlie Puth (Debut!)
7. "Kissing Strangers" – DNCE feat. Nicki Minaj
6. "The Cure" – Lady Gaga
5. "Now or Never" – Halsey
4. "I'm the One" – DJ Khaled feat. Justin Bieber & Chance the Rapper
3. "There's Nothing Holding me Back" – Shawn Mendes
2. "Sign of the Times" – Harry Styles
1."Castle on the Hill" – Ed Sheeran
Ed is back! Sheeran reclaims the top spot with his latest after a weekend break. Him and Harry just continue to flip-flop, will that streak continue, please remember it is up to you. Please remember to cast your ballots weeknights from 5-7:30 P.M. by either calling 217-844-HITS, texting 217-218-0288, or leaving your vote at The Party's Facebook Page!