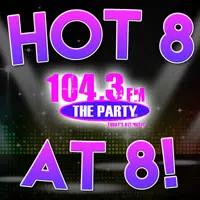 Happy Hump Day! It's Wednesday once more and time again for another night here in The Night Club with Carman! Of course it's not a full night club unless we count down some of the hottest new singles with The Hot 8@8 Countdown with Smoky's House BBQ in Charleston! Now for the past two nights DJ Khaled with some his friends has taken #1 with "I'm the One" can it go #1 a third straight night? See what your votes helped decide below and also one new entry tonight as well!
8. "Malibu" – Miley Cyrus (Debut!)
7. "Despacito" – Luis Fonsi feat. Daddy Yankee & Justin Bieber
6. "Slow Hands" – Niall Horan
5. "Believer" – Imagine Dragons
4. "Castle on the Hill" – Ed Sheeran
3. "The Cure" – Lady Gaga
2. "There's Nothing Holding Me Back" – Shawn Mendes
1."I'm the One" – DJ Khaled feat. Justin Bieber & Chance the Rapper
That's three nights now! Please remember the ranking is helped determined  by you so please be sure to cast your votes every weeknight from 5-7:30 p.m. Just simply call 217-844-HITS, text 217-218-0288, or leave your vote at The Party's Facebook Page!