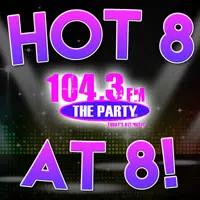 It's been a long week, but we made it through to Friday!!! Welcome back to The Night Club with Carman and we've got your final Hot 8@8 Countdown with Smoky's House BBQ in Charleston for the week of May 22nd through the 26th!!! Now all this week the song to beat has been "I'm the One" from DJ Khaled and his friends, can the all star collaboration maintain a solid week straight at #1 and head into the Memorial Day Weekend strong??? See what your votes helped determine and also one re-entry tonight as well!
8. "Kissing Strangers" – DNCE feat. Nicki Minaj (Re-Entry!)
7. "Believer" – Imagine Dragons
6. "Malibu" – Miley Cyrus
5. "Slow Hands" – Niall Horan
4. "Despacito" – Luis Fonsi feat. Daddy Yankee & Justin Bieber
3. "The Cure" – Lady Gaga
2. "There's Nothing Holding Me Back" – Shawn Mendes
1."I'm the One" – DJ Khaled feat. Justin Bieber & Chance the Rapper
A solid week indeed! DJ Khaled proving once more he remains unstoppable. Now the countdown will be taking 3 nights off in recognition of Memorial Day, so when the show resumes on Tuesday night, you can help determine if Khaled can maintain his reign. Just be sure to cast your vote by either calling 217-844-HITS, texting 217-218-0288, or leaving your vote at The Party's Facebook page!
Have a safe and wonderful Memorial Day Weekend!!! 🙂