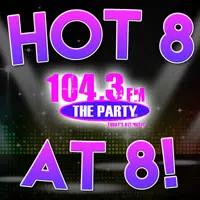 It's Friday!!! Welcome back to The Night Club with Carman and your final Hot 8@8 Countdown with Smoky's House BBQ for not only the week, but the month of June as well, week ending June 26th through June 30th!!! Now for the entire month  DJ Khaled took over the top spot, just dominated, with "I'm the One." However, that all changed two nights ago, when Wednesday night, Miley Cyrus took over the top spot with "Malibu", can she go a 3rd night tonight and close out the month strong? See what you helped determine and also tonight no new entries either….
8. "Bad Liar" – Selena Gomez
7. "Humble" – Kendrick Lamar
6. "Down" – Fifth Harmony feat. Gucci Mane
5. "Strip It Down" – Liam Payne feat. Quavo
4. "2 U" – David Guetta feat. Justin Bieber
3. "I'm the One" – DJ Khaled feat. Justin Bieber & Chance the Rapper
2. "Crying in the Club" – Camila Cabello
1."Malibu" – Miley Cyrus
"Malibu" hangs on yet again! Cyrus will hang onto the top spot heading into the weekend. When the show resumes on Monday night, please remember you can help determine the outcome. Please be sure to cast your vote weeknights from 5-7:30 p.m. by either calling 217-844-HITS, texting 217-218-0288, or by leaving your vote at The Party's Facebook Page!