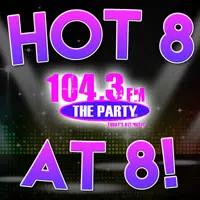 It's Tuesday! Welcome back to The Night Club with Carman and another round of The Hot 8@8 Countdown with Smoky's House BBQ in Charleston! Now last night was a pretty exciting show to kick off the week for we saw two  new entries and a new song reach #1, "Sorry Not Sorry" from Demi Lovato took over the top spot, now tonight there are no new entries but there is more shuffling….see what your votes helped decide below!
8. "Fetish" – Selena Gomez feat. Gucci Mane
7. "Back to You" – Louis Tomlinson feat. Bebe Rexha
6. "Friends" – Justin Bieber feat. Bloodpop
5. "Honest" – Chainsmokers
4. "Look What You Made Me Do" – Taylor Swift
3. "Feel It Still" – Portugal the Man
2. "What About Us" – Pink
1. "Sorry, Not Sorry" – Demi Lovato
That marks two nights in a row now for Demi! Anything can happen with the show when your vote has a say, so please remember to cast your ballots weeknights from 5-7:30 p.m. CDT by either calling 217-844-HITS, texting 217-218-0288, or leaving your vote at The Party's Facebook Page!