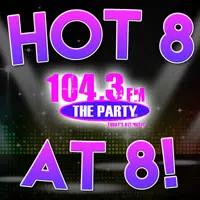 Happy Monday, welcome back to it! Hope you had a fantastic weekend as always, and lets dive into it. Another round of the Hot 8@8 Countdown coming your way with Smoky's House BBQ in Charleston all part of the Night Club with Carman! Now a little refresher from where we left things on Friday night….for the 9th night in a row, Taylor Swift took the top spot with "Look What You Made Me Do", see below to see where the song falls tonight and I will say she has two songs tonight plus we have one other debut as well! Check it out…..
8. "Too Good at Goodbyes" – Sam Smith (Debut!)
7. "Ready For It" – Taylor Swift (Debut!)
6. "Friends" – Justin Bieber feat. Bloodpop
5. "What About Us" – Pink
4. "Bad at Love" – Halsey
3. "Lights Down Low" – Max feat. Gnash
2. "What Lovers Do" – Maroon 5
1."Look What You Made Me Do" – Taylor Swift
That marks a 10th consecutive night, and you enjoy her new material for her other single debuted tonight for the first time as well! Please remember weeknights you can help decide what songs make the cut. Please be sure to get in your votes every single weeknight from 5-7:30 p.m. CDT by either calling 217-8440-HITS, texting 217-218-0288, or by leaving your vote at The Party's Facebook Page!