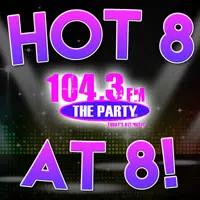 We made it to the Hump! Happy Hump day and welcome back to another night here in The Night Club with Carman! Of course the Night Club is not official without getting to some of your favorite new singles with the Hot 8@8 Countdown with Smoky's House BBQ in Charleston! Now keep in mind Taylor Swift is a dominate force right now on the show with not 1 but 2 entries on the show! Will "Look What You Made Me Do" maintain it's #1 status tonight??? See tonight's results below….
8. "New Rules" – Dua Lipa (Debut!)
7. "Too Good at Goodbyes" – Sam Smith
6. "Lights Down Low" – Max feat. Gnash
5. "What About Us" – Pink
4. "Ready For It" – Taylor Swift
3. "Bad at Love" – Halsey
2. "Look What You Made Me Do" – Taylor Swift
1."What Lovers Do" – Maroon 5
WHAT?! 11 nights and Taylor slips, we have a new song at the top spot and that is non other than Maroon 5 with "What Lovers Do!" However, anything is possible with this show so please remember weeknights you can help determine the outcome. Be sure to cast your votes weeknights from 5-7:30 p.m. CDT by either calling 217-844-HITS, texting 217-218-0288, or by leaving your vote at The Party's Facebook Page!