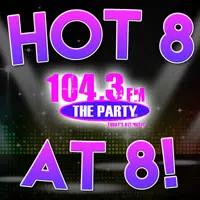 It's time for your Throwback Thursday edition of the Hot 8@8 Countdown with Smoky's House BBQ in Charleston! Welcome back to the Night Club with Carman and of course that means, given the day of the week, an old-school favorite spun backwards for Pop Culture Trivia…you chance at a Free BBQ Sandwich! Now all this week Maroon 5 has been the one to beat with "What Lovers Do"….Check out below to see if they dominate the top spot once more….
8. "Why" – Sabrina Carpenter
7. "Bad at Love" – Halsey
6. "Love So Soft" – Kelly Clarkson
5. "Ready for It" – Taylor Swift
4. "New Rules" – Dua Lipa
3. "Too Good at Goodbye" – Sam Smith
3. "Look What You Made Me Do" – Taylor Swift
1."What Lovers Do" – Maroon 5
The group known as Maroon 5 does it again! That marks a grand total of 6 nights now at #1 for their latest single! However, it's not consecutive for Taylor Swift reclaimed the top spot in the mix as well. What will close out the week at the top??? Please remember you vote can help determine the outcome. Please be sure to cast yours every weeknight from 5-7:30 p.m. CDT by either calling 217-844-HITS, texting 217-218-0288, or by leaving your vote at The Party's Facebook Page!