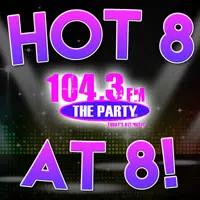 Happy Monday! Welcome back to The Night Club with Carman and another round of the Hot 8@8 Countdown with Smoky's House BBQ in Charleston! It's not only the first countdown for the week, but also for the month of October as well! Now Friday night Maroon 5 was the ones to beat for "What Lovers Do" took the top spot for the 8th consecutive time. Will they go a 9th tonight? See your results and also tonight, one new entry too….
8. "Why" – Sabrina Carpenter
7. "Thunder" – Imagine Dragons (Debut!)
6. "Look What You Made Me Do" – Taylor Swift
5. "New Rules" – Dua Lipa
4. "Love So Soft" – Kelly Clarkson
3. "Ready For It" – Taylor Swift
2. "Too Good at Goodbyes" – Sam Smith
1."What Lovers Do" – Maroon 5
The guys of Maroon 5 do it again! That marks a 9th night now at the top. Please remember every weeknight you can help decide the outcome by simply casting your vote for your favorite new single. Voting is open from 5-7:30 p.m. CDT Monday through Friday and ballots can be cast by either calling 217-844-HITS, texting 217-218-0288, or leaving your vote at The Party's Facebook Page!