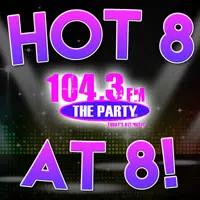 We've made it to the hump! Happy Wednesday and welcome in to what Carman here likes to call the Mid-Point Hot 8@8 Countdown for the week with Smoky's House BBQ in Charleston!!! Of course it's all part of the  Night Club with Carman and last night it was quite an exciting show for we saw a new song take over the #1 spot…Sam Smith defeated our reigning champs Maroon 5 for "Too Good at Goodbye" took over as the #1 song!! What will your votes help decide tonight? Check out Wednesday's results…..
8. "Look What You Made Me Do" – Taylor Swift
7. "Do Re Mi" – Blackbear (Re-Entry!)
6. "Thunder" – Imagine Dragons
5. "Love So Soft" – Kelly Clarkson
4. "New Rules" – Dua Lipa
3. "Ready For It" – Taylor Swift
2. "What Lovers Do" – Maroon 5
1."Too Good at Goodbye" – Sam Smith
Sam stays in tact! His latest goes a second night at #1 and the counting begins on his journey. Please remember every weeknight you can help decide the outcome. Please cast your ballot for your favorite new single weeknights from 5-7:30 p.m. CDT by either calling 217-844-HITS, texting 217-218-0288, or by leaving your vote at The Party's Facebook Page!