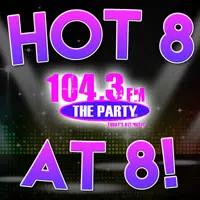 Happy Monday! Hope you had a fantastic weekend and welcome back to things here in The Night Club with Carman! Now it's not the club without getting to your weeknight tradition…The Hot 8@8 Countdown with Smoky's House BBQ in Charleston! Now a little refresher from where we left things on Friday night…Taylor Swift overtook Sam Smith to claim the top spot with "Ready For It"….the big question though are you ready for the song to go a second night at #1? See what you helped determine tonight…..
8. "Why" – Sabrina Carpenter (Re-Entry!)
7. "Havana" – Camila Cabello feat. Young Thug
6. "New Rules" – Dua Lipa
5. "Perfect" – Ed Sheeran
4. "Love So Soft" – Kelly Clarkson
3. "Thunder" – Imagine Dragons
2. "Ready For It" – Taylor Swift
1."Too Good at Goodbye" – Sam Smith
Only one night and Sam Smith reclaims the #1 spot! That makes" Too Good at Goodbye" #1 for a grand total of 4 nights now since its start on the show! Every weeknight you are in control as you can help determine the placing of the songs. Please remember to cast your ballot from 5-7:30 p.m. CDT by either calling 217-844-HITS, texting 217-218-0288, or leaving your vote at The Party's Facebook Page!