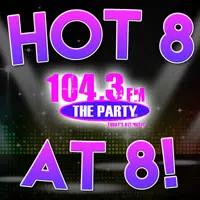 Happy Monday! Hope you enjoyed your weekend and as we kick off a fresh week, it's time for another round of the Hot 8@8 Countdown with Smoky's House BBQ in Charleston all part of The Night Club with Carman! Now a little Monday night refresher from where we left things on Friday night….for the 5th time in a row Imagine Dragons took our #1 spot with their latest "Thunder"…Will they strike the #1 spot again tonight? See tonight's results…plus two new entries tonight too!
8. "Good Ole' Days" – Macklemore feat. Ke$ha (Debut!)
7. "Rock Star" – Post Malone feat. 21 Savage (Debut!)
6. "Bodak Yellow" – Cardi B
5. "Let Me Go" – Hailee Steinfeld feat. Alesso & Florida Georgia Line
4. "Too Good at Goodbye" – Sam Smith
3. "Havana" – Camila Cabello feat. Young Thug
2. "Perfect" – Ed Sheeran
1."Thunder" – Imagine Dragons
That marks a 6th night indeed for the Dragons! Please remember every weeknight you can help determine the outcome by simply casting your vote. Please do so Monday through Friday from 5-7:30 p.m. CDT by either calling 217-844-HITS, texting 217-218-0288, or by leaving your vote at The Party's Facebook Page!