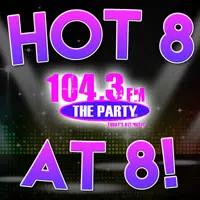 It's Hump Day! Already Wednesday and time for another round of the Hot 8@8 Countdown with Smoky's house BBQ in Charleston all part of the Night Club with Carman! Now last night was a bit of an interesting show for we saw Ed Sheeran claim  the top spot for the 1st time with "Perfect", will it be perfect enough to go a 2nd night tonight, or could Imagine Dragons reclaim their throne? See what your votes helped decide below….
8. "Find You" – Nick Jonas
7. "Too Good at Goodbye" – Sam Smith
6. "Bodak Yellow" – Cardi B
5. "Rock Star" – Post Malone feat. 21 Savage
4. "Let Me Go" – Hailee Stienfeld feat. Alesso & Florida Georgia Line
3. "Havana" – Camila Cabello feat. Young Thug
2. "Perfect" – Ed Sheeran
1."Thunder" – Imagine Dragons
The Dragons reclaim their throne! "Thunder" has managed to regain some ground to take over the top spot again tonight! It could be a battle between them and Ed Sheeran for the remainder of the week, please remember you can help decide the outcome. Please be sure to cast your ballot weeknights from 5-7:30 p.m. CDT by either calling 217-844-HITS, texting 217-218-0288, or by leaving your vote at The Party's Facebook Page!