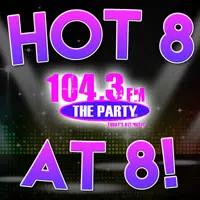 It's Monday! Hope you had a great weekend and adjusted well to the time change. However, with it being a new week we got to kick it off right with another round of the Hot 8@8 Countdown with Smoky's House BBQ in Charleston all part of The Night Club with Carman! In case you need a little refresher from where we left things on Friday night…for the 4th time in a row "Rock Star" from Post Malone & 21 Savage took our top spot…will they kick off the new week just as strong? Remember, so far it's the only song to be #1 for November….Check it out!
8. "Let Me Go" – Hailee Steinfeld feat. Alesso & Florida Georgia Line (Re-Entry!)
7. "Too Much to Ask" – Nial Horan
6. "Perfect" – Ed Sheeran
5. "Young, Dumb, & Broke" – Khalid feat. Rae Sreummurd & Lil Yachty
4. "Good Ole' Days" – Macklemore feat. Ke$ha
3. "How Long" – Charlie Puth
2. "Bodak Yellow" – Cardi B
1."Rock Star" – Post Malone fea. 21 Savage
That marks another night the song remains supreme! A 5th night in a row and a good way to start the new week! Please remember every weeknight from 5-7:30 p.m. CDT you can cast your vote. Simply call 217-844-HITS, text 217-218-0288, or leave your vote at The Party's Facebook Page!