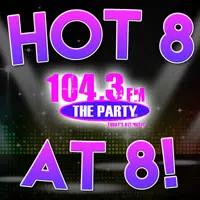 It's Hump Day!!! Happy Wednesday, and welcome in to your mid-point Hot 8@8 Countdown for the week with Smoky's House BBQ in Charleston all part of the Night Club with Carman! Now all this week the songs have remained pretty consistent on the show, and the same goes tonight…no new entries. However, the big question…will "Rock Star" from Post Malone remain our dominate November ruler on the show again??? Check out the placings below….
8. "Prefect" – Ed Sheeran
7. "Let Me Go" – Hailee Steinfeld feat. Alesso & Florida Georgia Line
6. "Too Much to Ask" – Nial Horan
5. "Bodak Yellow" – Cardi B
4. "Good Ole' Days" – Macklemore feat. Ke$ha
3. "Young, Dumb, & Broke" – Khalid feat. Rae Sremmurd & Lil' Yachty
2. "How Long" – Charlie Puth
1."Rock Star" – Post Malone feat. 21 Savage
That marks the Rock Star life a 7th night straight now for Post Malone! Please remember every weeknight you can cast a vote from 5-7:30 p.m. CDT. Simply call 217-844-HITS, text 217-218-0288, or leave your vote at The Party's Facebook Page!