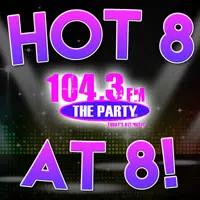 Happy Hump Day! We've made it to Wednesday once more and it's time for what I like to call your midpoint Hot 8@8 Countdown for the week with Smoky's House BBQ in Charleston! Of course it's all part of The Night Club with Carman and last night was a fun show because we saw a new song take over things at #1. Charlie Puth was at the top last night with "How Long." The question is "how long" will his reign at the top be? Check out tonight's results to find out!
8. "All I Have" – NF
7. "Wolves" – Selena Gomez feat. Marshmellow
6. "Silence" – Marshmellow feat. Khalid
5. "Young Dumb & Broke" – Khalid feat. Rae Sremmurd & Lil' Yachty
4. "Good Ole' Days" – Macklemore feat. Ke$ha
3. "Too Much to Ask" – Nial Horan
2. "Rock Star" – Post Malone feat. 21 Savage
1."How Long" – Charlie Puth
So, no new entries tonight, but #1 did not change…a second night in a row for Charlie now! If the song goes three tomorrow, please remember that's up to you! You can help decide the outcome weeknights by simply casting your vote. Be sure to do so weeknights from 5-7:30 p.m. CDT by either calling 217-844-HITS, texting 217-218-0288, or leave your vote at our Facebook Page!