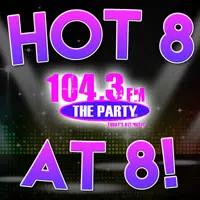 In what feels like a long week, we've finally made it to the weekend!!!! Happy Friday and welcome in to the final Hot 8@8 Countdown for the week of November 13th through the 17th with Smoky's House BBQ in Charleston all part of The Night Club with Carman! Now this week it was Post Malone and 21 Savage at #1 Monday night, but the rest of the week it's belonged to Charlie Puth…which one will close out the week strong? Check out your Friday results!
8. "Good Ole' Days" – Macklemore feat. Ke$ha
7. "Silence" – Marshmellow feat. Khalid
6. "Wolves" – Selena Gomez feat. Marshmellow
5. "Young, Dumb, & Broke" – Khalid feat. Rae Sremmurd & Lil Yachty
4. "Let You Down" – NF
3. "Too Much to Ask" – Nial Horan
2. "How Long" – Charlie Puth
1."Rock Star" – Post Malone feat. 21 Savage
SAY WHAT?! Post Malone has reclaimed our top spot! Comes to show you this countdown can be unpredictable sometimes. When the show resumes on Monday night, please remember to cast your vote! Please do so weeknights from 5-7:30 p.m. CDT by simply calling 217-844-HITS, texting 217-218-0288, or by leaving your vote at The Party's Facebook Page!