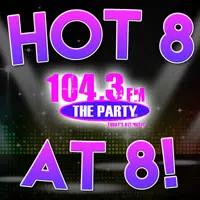 Welcome in to what I like to refer to as your "Mid-Point" Hot 8@8 Countdown for the week with Smoky's House BBQ in Charleston which of course is all part of The Night Club with Carman! It's your final show before Thanksgiving, so find out what songs your showing thanks for right now on the air. One new entry tonight too!
8. "Faking It" – Calvin Harris feat. Khalani feat. Lil Yachty
7. "Dusk Til Dawn" – Zayne feat. Sia (Debut!)
6. "Rock Star" – Post Malone feat. 21 Savage
5. "Young, Dumb, & Broke" – Khalid feat. Rae Sremmurd & Lil' Yachty
4. "Wolves" – Selena Gomez feat. Marshmellow
3. "Let You Down" – NF
2. "Too Much to Ask" – Nial Horan
1."How Long" – Charlie Puth
"How Long" will Charlie Puth go at #1 is the big question right now. Tonight marks 6 nights at #1 for the track! Now the show will take a little break for Thanksgiving, but when it picks backup on Friday…remember, you can have a say in what makes the show! Please be sure to vote from 5-7:30 p.m. CDT by either calling 217-844-HITS, texting 217-218-0288, or leave your vote at The Party's Facebook Page!
Have a Happy Thanksgiving Weekend!!! 🙂