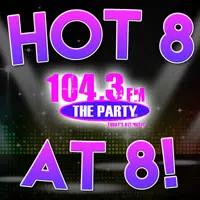 Happy Friday, December 1st! As crazy as it is to say, we're officially in the last month of the year!? Not sure how that's possible, but anyways here in The Night Club with Carman it's time for your first Hot 8@8 Countdown of the new month, and your final show for the week of November 27th through December 1st. The past 2 nights Selena Gomez has been #1…will she go 3??? Check em' out…..
8. "Rock Star" – Post Malone feat. 21 Savage
7. "How Long" – Charlie Puth
6. "Dusk Til' Dawn" – Zayne feat. Sia
5. "End Game" – Taylor Swift feat. Ed Sheeran & Future
4. "Faking It" – Calvin Harris feat. Khalani & Lil Yachty
3. "Too Much to Ask" – Niall Horan
2. "Let You Down" – NF
1."Wolves" – Selena Gomez feat. Marshmellow
That marks 3 nights in a row now!!! If Selena continues her reign on Monday night when the countdown resumes, please remember you have a say. Be sure to cast your vote from 5-7:30 p.m. CDT by either calling 217-844-HITS, texting 217-218-0288, or leaving your vote at The Party's Facebook Page!