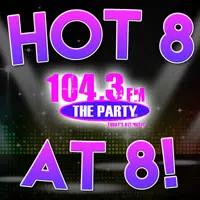 It's Tuesday, December 19th…6 days left till Christmas and time once more for another round of the Hot 8@8 Countdown with Smoky's House BBQ in Charleston all part of The Night Club with Carman!!! Now last night as we kicked off a new week, for the 7th time "End Game" from Taylor, Ed and Future dominated once more. However, Sofi Tucker & Bebe Rexha weren't too far behind….check out your results for Tuesday night below!
8. "Feels Great" – Cheat Codes feat. Fetty Wap (Debut!)
7. "One Foot" – Walk the Moon
6. "I Like Me Better" – Lauv
5. "Him & I" – G-Eazy & Halsey
4. "Faking It" – Calvin Harris feat. Kehlani & Lil Yachty
3. "Meant to Be" – Bebe Rexha feat. Florida Georgia Line
2. "End Game" – Taylor Swift feat. Ed Sheeran & Future
1."Best Friend" – Sofi Tucker feat. NERVO, The Knocks, & Alisa Ueno
That's the second time the latest from Swift has been defeated! "End Game" falls and makes room for a newcomer to reach #1 on our show for the first time…it's "Best Friend" at the top of the show! Keep in mind the week is still young and anything is possible with this show, so please be sure to cast your ballot once more when the countdown continues tomorrow. Voting is open from 5-7:30 p.m. CDT weeknights by either calling 217-844-HITS, texting 217-218-0288, or by leaving your vote at The Party's Facebook Page!