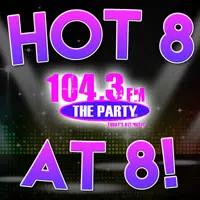 Hope you had a Wonderful Christmas!!! Welcome back to the Night Club with Carman and another week of the Hot 8@8 Countdown with Smoky's House BBQ in Charleston! It's your final week of the show for 2017 to boot!
As we kick off your Tuesday show, a little refresher from Friday night…While it may not have been consecutive nights, Taylor, Ed and Future spent their 10th night at @ #1 with End Game. Can they end the year strong? See what you helped decide tonight below….
8. "Mic Drop" – BTS feat. Desiigner (Debut!)
7. "Faking It" – Calvin Harris feat. Kehlani & Lil Yachty
6. "Feels Great" – Cheat Codes feat. Fetty Wap
5. "One Foot" – Walk the Moon
4. "Meant to Be" – Bebe Rexha feat. Florida Georgia Line
3. "Him & I" – G-Eazy feat. Halsey
2. "End Game" – Taylor Swift feat. Ed Sheeran & Future
1."Best Friend" – Sofi Tucker feat. NERVO, The Knocks, & Alisa Ueno
Last week at this time, Sofi Tucker was at #1 with "Best Friend" but just for one night only. Now she's back in the game! Anything can happen when you have a say in how the songs fall. So once more tomorrow be sure to cast a vote for your favorite new song! Vote by either calling 217-844-HITS, texting 217-218-0288, or by leaving your vote at The Party's Facebook Page!